Maldon To South Woodham Ferrers Branch Line
Once Great Eastern Railways opened the Crouch Valley Line, from Wickford to Southminster, a plan was approved to extend the line which ran from Witham to Maldon as far as Woodham Ferrers to join up with the Crouch Valley Line.
Maldon Railway Station in its prime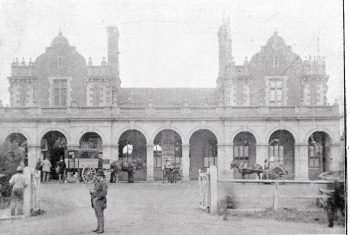 The line was rapidly completed and opened in October 1889 just four months after the Crouch Valley Line.
Small stations were completed at Stow Maries , Cold Norton, Barons Lane and Maldon West before the trains reach the massive Maldon Station
Maldon Railway Station 2008 - Now used as offices
While Stow Maries and Barons Lane were merely halts for passengers with a platform and a small hut. Barons Lane had quite a large Coal and Goods yard attached.
Luggage label used at Cold Norton Railway Station in its Great Eastern Railway days.
Cold Norton has a comparatively large railway station similar in style to the railway stations at Southminster and Burnham.
Cold Norton Railway Station taken before it was demolished
Fatal Accident
The opening of the new line met with an immediate tragedy.
On 27 June 1899 a young farm labourer called Arthur Burton was taking a wagon laden with peas , drawn by two horses from the field to Mr Tuffnells farm house.
The journey meant that he had to cross the new railway line.
AS he did so the 3.12 train from Maldon driven by George Kenzie approached. The fireman sounded his whistle but according to witnesses Arthur didn't hurry and the cart was struck by the train.
Arthur was thrown from the cart and although he was taken to nearby Cold Norton Station by the train he had received fatal injuries and was pronounced dead by Dr Price.
One of the horses was also killed although the second was unhurt.
The inquest reached a verdict of accidental death.
Closure of the line
After the end of World War 2 the line was in poor condition following heavy use and little or no maintenance and it was decided not to resume passenger traffic as the new bus service was adequate.
In 1953 even goods traffic was stopped on the line. and the track was taken up and most of the buildings demolished.
Sadly today little remains of this branch line although you can follow the route on a footpath made when the track was taken up.
to visit a page on the Crouch Valley Line