St Lawrence Church, St St Lawrence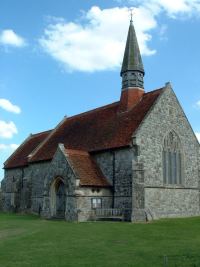 Built in 1877 for £1,555, by Mr Wild Stammers, on a high point overlooking the River Blackwater.
Two previous churches have stood on the site.
The Church is sometimes called St Lawrence Newlands.
The church was called Newlands as the original church was built on land newly taken from forest which covered our district.
Three generations of the Wedgewood Benn family lie beneath the floor of the chancel including the Lord Stansgate, father of the politician Anthony Wedgwood Benn.

Most services in St Lawrence are held in the Church Hall in the main village.
During the summer months the church is home to displays of art and local history.
Headstone/Memorials in the churchyard
John STRACHEY, writer and politician , 1963
Revd. Herbert BROWN, rector and former CMS Missionary in Bengal, died 1933
Wing Commander Clive W. SCOTT A.F.C., Royal New Zealand Air Force and Royal Air Force , died 1958

Memorials in the church
Jeremy Wedgwood BENN, died 1935,
Michael Wedgwood BENN, died 1944
William Wedgwood BENN, 1st Viscount Stansgate, died 1960 and
Margaret BENN, 1st Viscountess Stansgate, died 1991
to read about the church bells at this church