St Mary and Margaret's Church , Stow Maries

The church was built over a period with a 14th century chancel and a 15th century nave that was extended in the 16th century.

A major refurbishment took place in 1870 at the same time that the adjoining school house was built.

The north vestry was added in 1912 and rebuilt in 1950.

The churchyard contains graves of pilots from nearby Stow Maries Aerodrome who were killed in World War 1.

A red cross on the steeple is dedicated to the pilots of Stow Maries aerodrome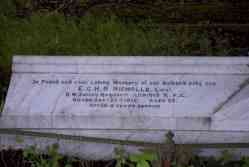 Memorials inside the Church
A brass to Mary Browne is dated 17 September 1602.
Mary was the wife of William Browne and daughter of Thomas Cammock of Maldon.
Click here to read about the church bells at this church
Worley's - A dictionary of the County
In 1915 George Worley wrote about the Church in his Dictionary of the County
The church is chiefly of the fifteenth century, but it has undergone many alterations and was considerably restored in 1870.
It consists of chancel, nave and small wooden belfry. bearing a short spire, and containing one bell.
The building is mainly of flint, though the lower part of the nave walls has a intermixture of stone in its chequered decoration, and the upper part of the brick.
Among old features the rood star remains, with an empty niche near it; and there is also a cusped piscina and an elegant credence table, resting on an ornamental corbel.
Note brass to Marye Browne (1602) with effigies of the lady and her children.
Registers start from 1559.