William Wedgwood Benn, 1st Viscount Stansgate
William Wedgwood Benn, was born on the 10th May 1877 died 17th November 1960
William was the second child of six born to Sir John Williams Benn and Elizabeth Pickston.
Benn became the youngest MP winning the seat of Tower Hamlets for the Liberals in 1906 which he retained in the 1910 election although it was lost in the 1914 election.
When the First World War was declared in August 1914 although Benn he initially raised money for the National Relief Fund but by October 1914 he enlisted and joined the Middlesex Yeomanry.
Initially he served in Gallipoli during which he was commended by his Commanding Officer but invalided to hospital while suffering from jaundice.
He developed an interest in the new aeroplanes and in 1916 he was posted to a RNAS seaplane unit in Egpy where he flew on many bombing raids as an observer and later trained as a pilot.
During the war he was awarded the Distinguished Flying Cross plus a Legion d'Honeur, Croix de Guerre and Italian gold and bronze medals for valour.
In 1920 he married Margaret Eadie who was the daughter of a fellow Liberal MP.
The wedding became National news when at Question time in the House of Commons it was noticed that the opposition benches were deserted.
When this was queried it transpired that the entire front bench took the afternoon off to attend William's Wedding.
Punch congratulated William with this caricature.
<![if !vml]>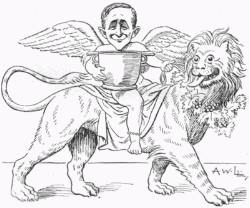 <![endif]>
Margaret and William were to have three children Michael, David and Tony.
In the general election of 1918 he was elected as Liberal member for Leith but in succeeding parliaments he became disenchanted with the Liberal Party and in January 1927 Benn joined the Labour Party and in 1929 became secretary for state for India.
In 1931 and again in 1935 he unsuccessfully contested seats but failed to return to Parliament.
In 1937 he was returned to Parliament by winning a by election at Gorton, Manchester.
Although nearly sixty-three at the outbreak of the Second World War, Benn enlisted in the Royal Air Force as a pilot officer.
Over the next four years he ignored instructions not to fly by undertaking several operational missions rising to the rank of Air Commodore.
His oldest son, Michael also joined the RAF being awarded a DFC but sadly was killed in a crash when landing in 1943.
In January 1942 Benn as asked by Clement Attlee to become a Labour member of the House of Lords.
Benn took the title Lord Stansgate in deference to his Family home at Steeple, which has been built by his father.
In 1945 with the return of a Labour Government he became Secretary of State for Air.
On 16 November 1960 William was in the House of Lords waiting his time to speak when he was taken ill. Although he was conveyed to the nearby Westminster Hospital he died on the following day.
On Lord Stansgate's death, Lady Stansgate continues to reside in the family seat at Steeple although the second Viscount of Stansgate, better known as Tony Benn, immediately renounced the title to continue his distinguished political career, which meant that the title skips a generation.
<![if !vml]>
<![endif]>The floor memorial at St Lawrence Newland Church to the Wedgewood Benn Family