Purleigh - Ancestral Home of the First President of USA

| | |
| --- | --- |
| <![if !vml]> <![endif]> | <![if !vml]> <![endif]> |
The Beginning
The ancestors of the Washington family came to England in 1066 with the Norman Invasion and settled in the far north of England.
By 1500 the Washington's had moved to Central England and Lawrence Washington who was a wealthy wool merchant became Mayor of Northampton and bought Sulgrove as the Washington family home.
Lawrence had 4 sons and eleven daughters amongst which his oldest son was Robert Washington and his second son was called Lawrence Washington. This started a family tradition to name one of the sons Lawrence.
<![if !vml]>
<![endif]>The bedroom at Sulgrove where Lawrence Washington was born
The First Washington Family visit to America
The second son Lawrence Washington married wealthy widow Mary Argall and became the stepfather of Samuel Argall.
Samuel became a prominent Sea captain based at Jamestown in Virginia. In 1613 he sailed to trade with the Potomac and found Pocohontas.
He kidnapped Pocohontas and sailed back to Jamestown where she was held in captivity. The famous story then began with her adopting Christianity and marrying John Rolfe before traveling back to England with her new husband in Samuel Argall's boat. sadly she died in England aged 21 but has become a heroine in her country.
Samuel was an unpopular Deputy Governor of Virginia from 1617 to 1619 before he returned to the sea and died at sea in 1626 ending the Washington family's first experience in America.
Trouble in England
The oldest son Robert inherited Sulgrove and in married heiress Elizabeth Lyte with whom he had 15 children one of which carried the family name of Lawrence Washington.
Lawrence married Margaret Butler who came from a well-connected family descended from the Plantagenet Kings. The
Their fifth son Lawrence was a comparative disappointment as older sons had been knighted and married well . Lawrence decided to take the Cloth and obtained a degree from Brakenose Collage at Oxford University before buying the living at as the Rector of Purleigh, Essex in 1633. At this time Purleigh was an important village and offered one of the best livings in Essex which allowed Lawrence to live in the style that he had become accustomed in the Washington household.
Purleigh Church
<![if !vml]>
<![endif]>
In 1632, shortly before moving to Purleigh, Lawrence married Amphillis Twigdon who as the daughter of a moderately wealthy family in Northamptonshire.
All seemed to go well for Lawrence who was described by his new parishioners as a 'very worthy and pius man' and Lawrence and Amphillis had three sons and three daughters. John (1633) and Andrew (1635) Washington were the oldest two sons.
National affairs clouded the Washington Family life in 1642 with the start of the English Civil War. The Washington family were Royalists having connections with the Monarchy over many generations but Essex was staunchly Puritan supplying the bulk of Parliamentarians troops.
Once the King was forced to flee London the Puritans controlled Essex. At this time many of the senior clergy were also senior politicians and an prominent Royalist in occupation of one of the best livings in Essex was not seen as satisfactory.
Washington was denounced as ' A common frequenter of ale houses, not only himself sitting daily tippling there, but also encouraging others in that beastly vice, and hath been often drunk, and hath said that the Parliament have more papists belonging to them in their armies than the King had about him or in his army and the Parliament's army did more hurt than the Cavaliers and that they did none at all, and hath published them to be traitors that lend to or assist Parliament'.
There is no evidence as to his drinking habits although the Bell which is a splendid Public House is close to the Church and the Rectory.
Mr Newcourt writing in 1632 claimed that Washington was sequestered or his loyalty to the king and there seems little cause to doubt his views given the language of denouncement.
<![if !vml]>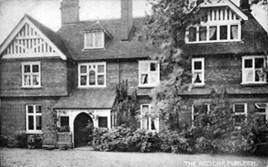 <![endif]>Purleigh Rectory in about 1920
Whatever the truth in 1643 the living of Purleigh was taken away from Washington and so the family moved in with his in laws for a short period before a Royalist sympathiser bought the living at Little Braxted in Essex which Washington accepted. Little Braxted was one of the poorest livings in Essex and the Washington family experienced poverty until Lawrence died in 1655. Two years later Amphillis also died.
Coming to America
<![if !vml]>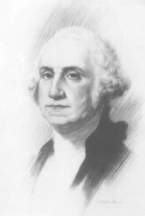 <![endif]>
On the death of their mother John and Andrew moved to London to seek their fortune. America seemed the land of opportunity and in 1656 John sailed for Virginia as First mate on the Sea Horse with partner Edward Prescott. On the death of his first wife he married Anne Pope who was the daughter of a planter and as a wedding gift received a 700 acre tobacco plantation. When their first son was born in 1659 they followed the family tradition and named him Lawrence.
Lawrence Washington grew up in comparative wealth and married Mildred Warner whose family had English roots with royal connections. They had a son called Augustine. John died in 1698 and Mildred died in 1701 when Augustine was just 15 years old. He was cared for by his uncle John until he reached the age of 21 when he inherited the family plantation.
Augustine again married well. At the age of 21 he married Jane Butler who brought with her 1,300 acres of land. After providing two children, including the obligatory son called Lawrence, Jane died in 1828 and Augustine married again to Mary Ball who again came from a wealthy family and brought yet more tobacco plantation land. Augustine and Mary had five children of which the first was born on 22 February 1732 and named George Washington..
Augustine died when George was 11 but his mother lived for many years. George eventually took over the main plantation before embarking in politics and as they say the rest is history.