St Michaels's Church, Woodham Walter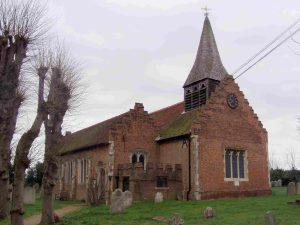 A red brick church that was built in 1563-4 by the Earl of Sussex on a licence granted by Queen Elizabeth 1.
This was the only church in Essex to have been built during the reign of Elizabeth 1
The church replaced a much older church which was in poor condition although the bell frame and roof structure from the old church were used.
The 15th century stained glass is worth viewing with other windows added in 1879 and 1898.
A major restoration was carried out in 1878 when the ceiling was replastered and many windows replaced.
The royal arms painted on wood inside date from 1660
Memorials in the church include
John Walter GREGORY D.S.C., F.R.S., F.G.S., LL.D., 'Scientist, Explorer, Teacher', 1932
Henry Guy BRYAN, 'Accompanying Govr. Gawlor on his perilous expedition into the unknown regions of South Australia, his generous endeavours to secure the Governor's personal safety, were accomplished under a mysterious providence by the painful sacrifice of his own life, December 1839, aged 18 years'
Sir Eric EASTWOOD C.B.E., Ph.D., F.R.S., 'A distinguished scientist who yielded major contributions to radar development & safety in the air', 1981
Private John Abram CAMPION, 2nd Grenadier Guards, 'killed in action near Festubert [Nord] in France', 1914
Captain Arthur Newstead FALKNER, 8th Battalion Loyal North Lancashire Regiment, 'died...of wounds received in the battle of the Somme [France]', 1916
Henry Ayrton CHAPLIN of the West African medical staff, 'died...at Salaga, West Africa [now in Ghana] while engaged in scientific research on behalf of the Government of the Gold Coast Colony', 1905
Rev Marius D'Asigny D 1717 and his wife Priscilla D'Asigny
John Wiseman
John Solme
Anthony Buckenham ( d 1647)
Mr JJ Bygrave ( d 1841) and his wife W H Bygrave ( d 1844)
Rev Guy Bryan ( d 1870)
Rev J B Coles ( d1874)
Rev Edward Shaw (d1802)
Thomas Ffytche ( d 27/2/1777 age 70)
Memorials in the churchyard include
Mary Juliana PYNE, 'for 26 years Matron of Westminster Hospital', 1927
Robert LINGE, 'A member of the Essex Constabulary for 28 years', 1909
Simon Richard MILLS, 'Incumbent of Castle Hedingham...late of Huntingdon [Huntingdonshire]', 1862
James TURNBRIDGE, 'late of the 7th Regiment Heavy Dragoons who died at Kurrachee, East India [now Karachi, Sindh, Pakistan]', 1860
Peter CREAK of Wisbeech , mariner, 1768
James Robert SMITH, 'who was drowned whilst bathing', 1870
Mary, wife of James WILKINS of Berkhamstead, Hertfordshire, 1805
Benjamin BURCHELL, 'He for many years discharged the Offices of Church Clerk and Overseer of this Parish and was universally beloved and respected for his good sense, humble and obliging disposition, uprightness of conduct, kindness and justice to the Poor and strict attention to his Religious Duties', 1835.
<![if !supportLineBreakNewLine]>
Click here to read about the church bells at this church<![endif]>
Worley's - A dictionary of the County
In 1915 George Worley wrote about the Church in his Dictionary of the County